---

Marlisa

our very talented student

Winner of the X-Factor, 2014


---

From her first lesson with Roxanne Kiely, Marlisa Punzalan showed she has an enormous capacity to retain all the information that Roxanne was giving her.


Marlisa with her vocal coach, Roxanne Kiely


Apart from her obvious talent, Marlisa has tons of the other elements which go towards creating success, namely self-discipline, determination and the ability to comprehend and utilise the information which she is being taught.

All throughout the X-Factor 2014 competition, the judges kept referring to her as "the 14-year old Marlisa", or "just turned 15", which does make her win all that more impressive, but her age has not proven to be that important to her, or to us as her teachers.



Marlisa generously thanks her teacher for showing her how to find her true voice and let it shine.
Marlisa's album will feature tracks from the X-Factor 2014 competition:

TRACK LIST

Stand By You
Yesterday
All By Myself
Hopelessly Devoted To You
Let It Go
Try
Titanium
Somewhere Over The Rainbow
Girl On Fire
Impossible

You can pre-order the album by clicking HERE.



Pictured here is Marlisa, with the writers of her first hit single, "Stand By You", Hayley Warner and DNA Songs.

SONY Music was so impressed with the young singer that they were determined to have a song, specially written for her, available as soon as X-Factor 2014 winner was announced.

Marlisa's first album will be out soon featuring songs from the show, ahead of her tour with Guy Sebastian in 2015.

Marlisa with fellow songwriting students, at a Songsalive! Australia songwriting weekend workshop she attended in 2013 in the Blue Mountains.


Roxanne is the President and Stephen the Vice President of Songsalive! Australia, the national songwriting organisation which Roxanne founded in 1997.


On the day of this picture, Marlisa and her friends had just finished writing a song with Stephen, and were about to perform it for the other songwriters who attended the workshop.


Check out the concentration on their faces as the four writers perform their newly-written song for the first time.


Apart from monthly songwriting workshops in Sydney City and Parramatta, Songsalive! Australia also run a national songwriting competition, The Song Comp, which features over $60,000 in cash and prizes.


No doubt Marlisa's next album will feature songs she has written herself, because once she puts her mind to something, she is determined to be the very best at it that she can...and she has certainly proven that already, hasn't she?



Marlisa, singing her hit single, "Stand By You"
Roxanne with her student Marlisa Punzalan, who has won X-0Factor 2014! Click >> Roxanne's site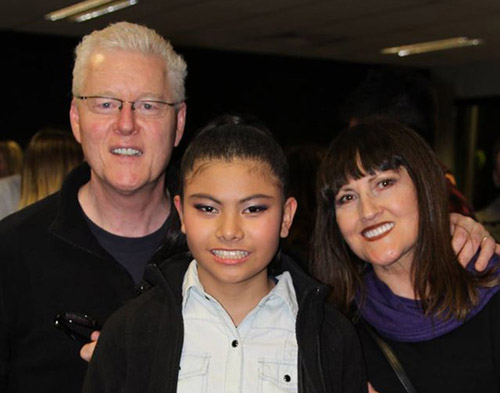 CONGRATULATIONS MARLISA!!
Roxanne specialises in a vocal technique that includes:
Pain Free Singing
Extensive range extension, and projection
Articulation
Vocal blending

Tone
Pitch
Vocal Style
Performance
Roxanne is the vocal coach for the Telstra Road To Discovery series 2010 - 2014
Some of Roxanne's students:
Delta Goodrem
Hayley Warner - Idol 2009, EMI Publishing
Steve Edmonds
Aleyce Simmonds
Bec Cartwright
Jordana Beatty- Judy Moody
Stephanie Jansen '2012 Star Maker Finalists'
Daniel Conway (AUST GOT TALENT 2011)

Tamara Stewart (award winning country music artist)
Christie Lamb
Kelsi Boyden (Billy Elliot)
Tenielle Neda - TRTT-2010 (Mushroom Publishing)
Ashleigh Ross - Jane Banks - 'Mary Poppins 2011'
Natalie Bassingthwaite
Caitlin Harnett (Mushroom Publishing)


Introduction to The Vocal Exercise Double CD Pack: -

Welcome to the beginning of your beautiful voice:

This CD exercise set has been developed as a result of my personal experience as a singer, and the experiences of students I have taught.

If you develop and maintain your own routine, using these exercises, in combination with correct placement and breath support, I guarantee you will achieve a spectacular improvement, not only in your range, but also in your vocal control and projection. Furthermore these exercises will greatly aid in the healing of damaged vocal chords.

How can I be so confident of this?

Because I went through this process myself, having had to deal with damaged vocal chords, due to incorrect placement. After years of working grueling schedules of nightly performances, I woke up one morning to find I could not produce a recognisable sound when attempting to talk. I hadn't seen it coming, as I was unaware that I was singing incorrectly at the time, and here it was, every singer's ultimate nightmare: no voice. Although sad and deflated by my circumstance, I decided to find out what I could do about this as soon as possible.

Now, many vocalists have had to confront this issue at some point in their careers: "Nodules" or calluses have formed on their vocal chords, as a result of bad vocal habits. Sometimes these nodules are so pronounced they are referred to as a "polyp".

Some people decide to have these nodules surgically removed. While this has often proven to be a successful method for dealing with the immediate problem, it does not take care of the cause, and many singers find that their nodules, within months of having been removed, begin to reappear.

In contrast to this "quick fix" approach, I decided to heal the damage to my chords while developing a new and much stronger long-term strategy to protect and enhance my voice.

As a result of learning correct vocal technique, the nodules on my vocal chords disappeared and my singing voice returned. Everything I hoped to achieve happened, and more. My range began to expand well beyond what it had previously been and I had developed greater projection and control.

Through these exercises you will find that, if you follow the advice I outline in the tutorial, you will notice a definitive improvement in all aspects of your vocal style and production and if you practise these exercises on a daily basis, I guarantee you will achieve the best version of your voice that you possibly can.

It's an exciting journey you are about to embark upon and I wish you all the best with your new routine.



Contact Roxanne:
Phone: 0411 465 332


Online: Send me an